Our Mission
IAWN was established (2013) as a result of the UN-endorsed recommendations for an international response to a potential NEO impact threat, to create an international group of organizations involved in detecting, tracking, and characterizing NEOs. The IAWN is tasked with developing a strategy using well-defined communication plans and protocols to assist Governments in the analysis of asteroid impact consequences and in the planning of mitigation responses.
Currently, IAWN includes members from Europe, Asia, South and North America.
NEO News
Arecibo Status
(19 Nov 2020) NSF planning to decommission the 305 meter dish at Arecibo.
Read More: NSF Release
Read More: NASA Release
---
Community Announcement
Planetary Defense Conference 2021
The 7th IAA Planetary Defense Conference in 2021 is being hosted by the UN Office for Outer Space Affairs (UNOOSA), and will take place April 26-30, 2021.
Read More: Conference Webpage
---
NEO News
Apophis Observing Campaign 2021
(09 Oct 2020) The campaign will be modeled on our experience from the two previous campaigns to find out if we can conduct a successful, coordinated observing campaign with relatively short lead time to assess the hazard potential of a large NEA.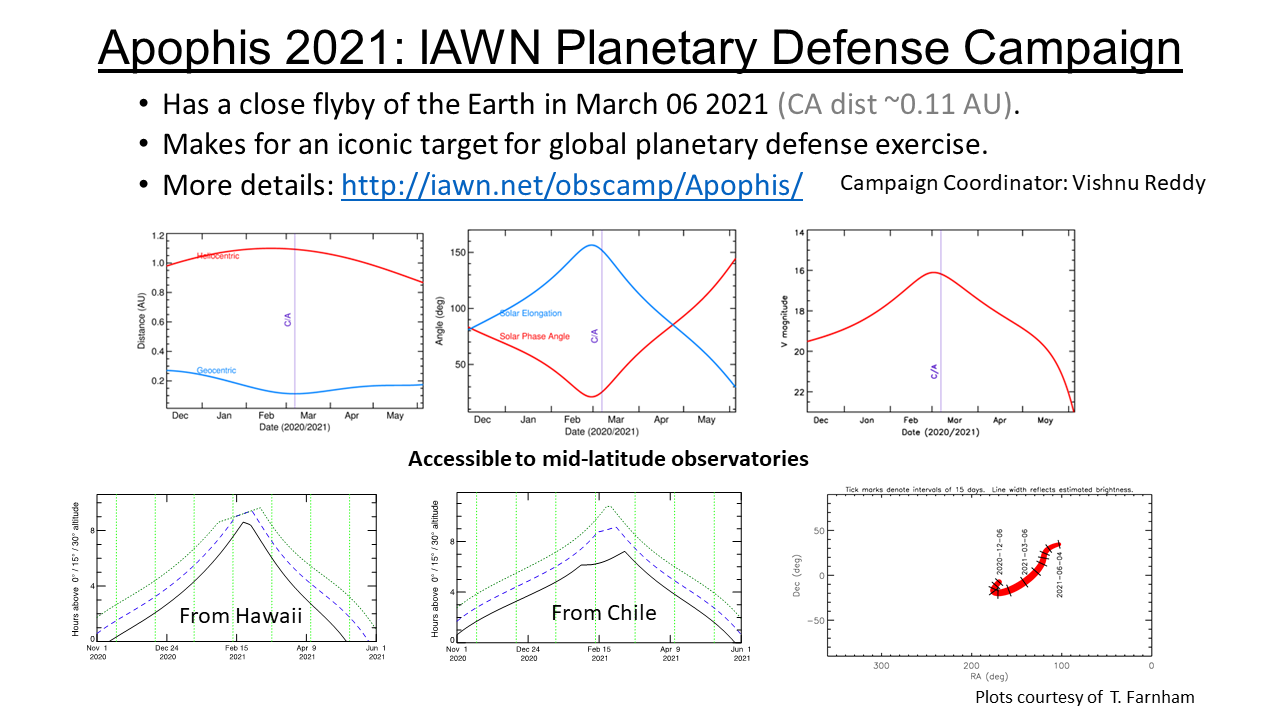 Read More: Apophis Campaign
Close Approaches
Asteriod designation: 2020 VT4
Discovery station: ATLAS-MLO, Mauna Loa
Close approach date (UTC): 2020 11 13.72
Close approach distance (× lunar distance): 0.02
Discovery announcement
Latest orbit & observations
---
Latest from IAWN
Welcoming 5 new IAWN members!
(Feb 2020) The IAWN Steering Committee has approved 5 more members. They are:
Instituto de Astrofisica de Canarias (IAC)
Fondazione GAL Hassin
Jordi Camarasa, Paus Observatory (B49)
Israel Space Agency (ISA)
Gennady Borisov, Mobil Astronomical Robotics Genon Observatory (MARGO)
---